Subscribers get our ePaper (digital version of print newspaper) which is updated every week.
Here are the sections in this guide (click to go to section)
Find the ePaper
1. Log in at TheEpochTimes.com then click on your profile in the upper right corner

2. Click ePaper on the left menu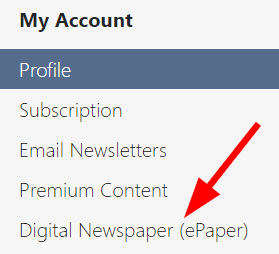 3. Click Editions on the right side menu, select Canadian Edition and the issue you want to read. Here you can also search through the archives to find the past editions.


4. Click on any section to start reading!

How to Navigate the Paper
Watch this short video tutorial to learn how to use the ePaper
ePaper Features
Click on an article to use different functions or translate the language

Download an edition or page(s)
Click Pages, the Pages mode allows you to download the entire edition or selected pages as a PDF file.


Download the audio version of an article
1. On an article, click the audio button, then the settings button.
2. Scroll down and click download
3. Click on the menu and select "download".
Search for an article
1. Click Search Archive on the right side menu

2. Enter your search term in the box

For more ePaper FAQs and troubleshooting, click on Help on the right menu.